The Olathe Bass Club held it's end of year banquet for 2021 at the Olathe Deaf Club in downtown Olathe on Saturday, December 4th. The club conducted collections for 2 incredible charities that serve Olathe and all of Johnson County as well.
One of the drives the OBC put together was a food and clothing drive for Mission Southside, which provides basic necessities for low income families in Johnson County. Along with several clothing items, over 150lbs of food donations were donated by OBC members to this amazing organization.
The 2nd charitable collection was a fund drive in support of the Pennies For Shoes campaign. This effort supports the Olathe Mayor's Christmas Tree Fund to purchase footwear for Olathe students in need as well as ensure that each local family has food, clothing and water during the holidays. OBC members came through with $137 in donations for this fund.
All of the funds and collected items were happily delivered courtesy of the Olathe Bass Club and all of their big-hearted members. We are more than just a local bass club and we have proven that once again by providing basic necessities for families in need right here in our community.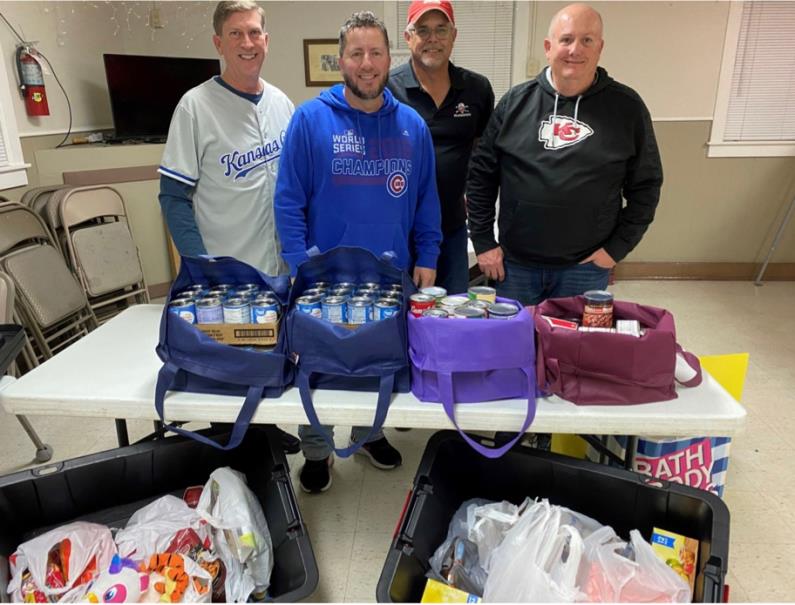 Pictured above (left to right) are OBC members Wayne Byars, Pete Morrone, Dean Nelson and Jeff Stacy with some of the food donations collected for Mission Southside on 12-4-21.